About us
Hello,
Welcome to our Boutique- We are from a very small town in Bristol, Florida--Its a one redlight town! I, Jennifer have been in retail 34 years and I love fashion, shopping, and building confidence & trust with my customers. I have always dreamed of owning my own Boutique and all my years of hard work the doors have opened for me. I have a fiance' and 3 beautiful children. Tara is my daughter, who models for our page often.
Let me introduce Desiree. She is my partner/owner and she is a full time trauma nurse. Desiree and my little sister were friends from Kindergarten and we ran into each other and we instantly started our journey together. Desiree is happily married with 4 children and 3 fur babies.
We want to welcome you to join our Boutique and we assure you outstanding customer service and a fun shopping experience!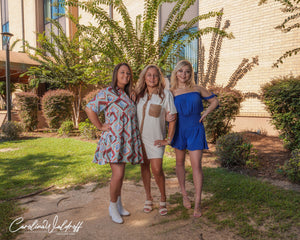 Our store
20788 SE Sherry Ave.
Blountstown, FL 32424
Monday, 10am - 2pm
Tuesday-Friday, 10am - 5pm
Saturday, 10am - 2pm